First of all, Tanager Tourism and Heliconia Turismo are run by two biologists. We have a lot of knowledge about tropical ecosystems and the plants and animals that constitute those eco-systems
Second, we did not build our bed and breakfast near a forest, but rather we planted a forest near our hotel. That is right, we bought 8 hectares of pasture and started to reforest that area with native plants. An area that formerly only hosted grass, cattle and cattle egrets is now home to mahogany trees, orchids, hummingbirds, toucans, tamandua's and the occasional jaguarundi.
Our hotel is designed to decrease impact on the environment:
We harvest and store rainwater, which is then treated to make it fit for human consumption;
The hotel has wide verandas that provide shade and decrease our energy consumption
We have installed on demand water heaters
Most of our light fixtures have LED lights or CFL (compact Fluorescent lights)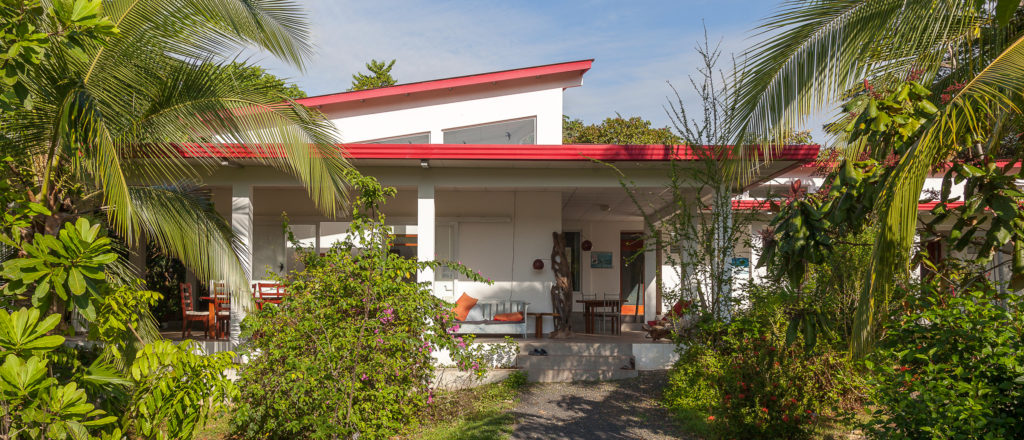 Third, for us, the communities around us are important. We try to build lasting relationships with local people and local associations and we outsource as much as we can.
We work with local fishermen and boat owners on our trips to Coiba and trips in the Golfo de Montijo. Our regular captain borrowed money from us to buy a fuel-efficient quiet engine and repaid that loan twice as fast as we asked for. He then borrowed money to build a new boat. Two other captains have also built new boats and/or bought better more fuel-efficient engines to provide us and others with tourism services.
During the turtle nesting season we convince our guests to visit the turtle protection association in Malena to see turtles nest and/or hatch. We take them there for free and ask guests to donate to the association.
We work with a community tourism association in Quebro (AAPEQ) that has built an elevated walkway in the mangrove and has kayaks to explore the mangrove ecosystem.
We are starting to work with households in Restingue, a remote village near Cerro Hoya, to take visitors to their beaches and forests.
We organise trips for the Panamanian chapter of the Audubon society to Coiba at a discount so they can study the birds on this island.
We organise pelagic birding trips at cost price to increase knowledge about little known species like wedge-tailed shearwaters and Nazca boobies.
We have supported several scientists who surveyed animals and plants in Cerro Hoya National Park.
We have organised language courses for staff and anyone who is interested in learning English. The English is given by a Panamanian married to an Englishmen.
We have organised and supported first aid courses (by the Panamanian Red Cross) for our staff and for other interested people. Among them were the ambulance drivers of the local health post.
We regularly attend meetings about tourism on Coiba and Veraguas and participate to try and improve tourism.
We have assisted the community with the construction and maintenance of the local gravity fed water system.
We have started a small reduce reuse and recycle programme with small workshop led by Isibel from Cultura Eco.
We have over the years collaborated with peace corps volunteers that were hosted in Malena, Quebro and Flores.
Social Share